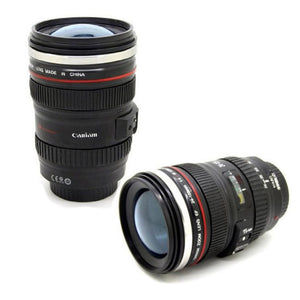 Drinking Coffee with Style...
coffee mug 24-105mm 1:1 camera lens
SIX generation of creative emulation mug (with lid)
Eco-Friendly, Coffee Mug With Lid
Specifications: 7.5*5.5*13.5CM
We aim to deliver the goods as fast as possible, however there may be delays with the deliveries of some products, your products will ship within two days of your order and then take up to two weeks to reach you!
Allow 2-4 weeks for delivery to the United States, Canada, United Kingdom, Australia, New Zealand, and all European Union Countries
Please allow 2-6 weeks for delivery to the rest of the world

🌐 Free Worldwide Shipping + 20 % Off❗️👇Browse Entire Collection 
https://foldingup.com/collections/save-the-planet
Our Guarantee:
 ☑️  Safe payments via Shopify and Paypal®
 ☑️  24/7 assistance sales@foldingup.com
 ☑️  No hidden fees!
100% Satisfaction Guaranteed
Arrived in 2 weeks, very well packaged
The mug is excellent, corresponds to the description. Just right for trips. The lid is screwed tightly. in the hands to hold comfortably. Mug for travel, travel is the most it. In the hands to hold comfortably, the lid is screwed tightly.
Gorgeous! Took about a month to deliver. Thank you! I am thrilled with it!